Title: The little spoon
Author: Sajiwostudios
Rating: PG
Genre: Humor, Schmoop-ish
Pairing(s): Browley (Bobby/Crowley)
Warnings: Other than my really crappy writing,none.
Word Count: 359
Summary:
Bobby always sort of felt like he wore the pants in this relationship.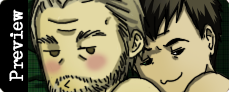 "Aw love, am I making you feel emasculated?"
Crowley's English tones drenching with his usual irritatingly snark comes from over Bobby's shoulder where the demon's head rests snugly against Bobby's back. The hunter can feel the dark haired man's lips pucker into a pout against the back of his neck and all Bobby can do is roll his eyes and heave an exaggerated sigh of annoyance.
The elderly hunter has come to accept a lot of things about this relationship he somehow stumbled and knocked his head into. The one major adjustment Bobby has come to accept is that they're both very much men (well one man and a demon wrapped up in a male meat suit but let's not get picky). Hard plains replacing familiar soft curves, itchy stubble instead of smooth silken cheeks, and well…dangly bits a little more south than Bobby was used to.
Even though Bobby acknowledged they were both grown men (which duh, if the bulge against Bobby's back was anything go on, cause clearly Crowley didn't crawl into bed with him to poke him in the backside with a banana) Bobby always sort of felt like he wore the pants in this relationship.
It's not as though Crowley walks around with a man purse, hands on his hips, and talking with one of those stereotypical lisps you see gay guys on TV sporting as they gossip (which Crowley does FYI, and boy does Bobby know more about the demon underground than he'd really care to).
It's just that Bobby's always felt that true manly men didn't care about the designer or make of their clothes; if it's still in one piece and comfortable then who cares, right? And true manly men didn't spend so much time in the bath room grooming him self and making themselves 'presentable.' And don't get him started on the wine collection…
So Bobby, rough callused manly man, lays there cradled in the arms of a cross roads demon, warm heat spooning comfortingly against his back. He throws a gruff 'shove it' over his shoulder before closing his eyes and trying to find the answer to one simple question:
How the hell did he end up becoming the little spoon?
Current Mood:
tired
Current Music: silence